A defence of innovation
Defence is pioneering a culture that is innovative by instinct by empowering the armed forces and defence civil servants to generate ideas and exploit opportunities. These ideas deliver innovative solutions enabling the UK to advance its military capability to stay ahead of evolving threats, writes Clare Cameron, director for defence innovation at the UK Ministry of Defence.
To rapidly modernise defence in the face of evolving threats, we need to deliver cutting-edge military capabilities at the speed of relevance. Science, technology and innovation have a vital role in providing solutions that contribute significantly to overcoming those capability challenges that we identified in the Defence Command Paper titled 'Defence in a Competitive Age'.
To enhance our approach to innovation, science and technology, the department received £6.6bn from the Spending Review 2020 to invest in research and development (R&D) over the next four years. Within this, £1.1bn is to invest in projects and programmes that go after technologies and innovations that have the potential to change the way defence operates. They represent the department's willingness to innovate at scale, and at pace.
New technologies in the pipeline
Our current approach includes a pipeline of investments optimised to quickly develop technologies, concepts and integrated systems and get them into the hands of the armed forces, whilst also respecting our responsibilities to the public purse.
An example of this is the Directed Energy Weapons (DEW) programme to produce advanced laser and radio frequency demonstrators. This type of technology seeks to solve military issues: operating without ammunition would significantly reduce our operating costs while giving us a new idea of frontline flexibility.
Another example is the Enhanced Command and Control Spearhead, a programme initiated in 2019 to integrate artificial intelligence into the army's command and control systems. Last year, a demonstrator was deployed to a live operation in Estonia. The AI technology used vast amounts of data to provide soldiers with abridged and critical information on the surrounding terrain and environment.
Through this development of automation and smart analytics, the technology was able to cut through masses of complex data. It demonstrated our commitment to reduce the cognitive burden on human input and speed up decision-making processes for the benefit of those serving on the frontline.
Funding innovation in defence
The 2015 Strategic Defence and Security Review galvanised defence to innovate. It included a commitment to spend around £800m over ten years on innovation through the Defence Innovation Fund. This, and the recognition across defence of the strategic imperative, has resulted in an enormous effort across defence.
The Defence and Security Accelerator (DASA) has been established to provide an effective means to attract innovative suppliers, small and large; the armed forces have all created innovation hubs and assigned units to experimentation; the National Security Strategic Investment Fund has been created to secure investment in critical technologies.
So far, the Defence Innovation Fund alone has invested around £138m, with more innovation investment coming from the single services and Strategic Command. These investments have meant we can put funding behind how we are solving defence problems to deliver innovative solutions.
As the ecosystem of innovators grows, so does the diversity of ideas, increasing our innovative culture, driving change and modernising defence.
An example includes the Royal Air Force's innovative idea for recycling waste hydrocarbons in an effort to decarbonise the military. This project offered the opportunity to save money for defence and the taxpayer by removing the requirement for costly external waste management whilst benefitting the environment.
Just last November, the RAF received a Guinness World Record for the first flight using only synthetic fuel, demonstrating defence's commitment to leading the way on creating a sustainable future.
The Royal Navy also announced that it is testing drones that will help rescue anyone at sea, making it easier for ships to identify a casualty's location. This was funded through our internal ideas scheme.
With the right people and processes in place, we can support and fund ideas that solve problems anywhere in defence. As the ecosystem of innovators grows, so does the diversity of ideas, increasing our innovative culture, driving change and modernising defence.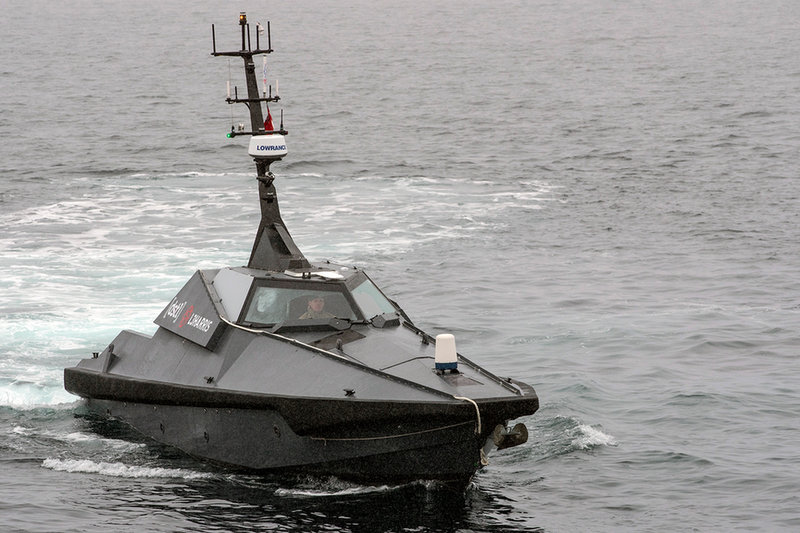 Collaboration with industry
All our investments focus on achieving advanced military capability, and to continue to do this, defence must engage effectively with an ecosystem of outside innovators. The Defence and Security Industrial Strategy (DSIS) enables industry, government and academia to work together to drive research, enhance investment and promote innovation.
The DSIS provides the commitment to find ways for defence to procure with greater agility from small businesses and to transform our relationships with defence primes. DASA has established relationships with small businesses and academia across the UK, enabling contracts to develop technologies that the innovators may never have seen a use for. All are vitally important for implementing innovation and delivery of novel, cutting edge capability to the armed forces.
We should acknowledge that, to get ahead of our adversaries, we need to take risks with our portfolio of investments.
Underpinning this activity, investment and renewed engagement, defence must change how we do business. The Acquisition and Approvals Transformation Programme (AATP) is driving changes that make defence and its acquisition system more agile through speed, adaptability and resilience.
We should acknowledge that, to get ahead of our adversaries, we need to take risks with our portfolio of investments. We need a new approach to risk as there are risks in investing in new ideas. Investments may not lead to viable or valuable capabilities. Sometimes this is because the idea cannot work with the current state of technology, or sometimes important security or safety issues emerge.
We need to be confident in stopping projects that are failing and then learning from them – if we take those lessons and embed them then it is not wasted investment; it is on the journey to success.
A culture of innovation is about learning and understanding that just because a product hasn't worked, it does not mean it has failed or is a loss of our investment. That doesn't mean a lack of due diligence or planning; however, it does mean a more conscious, nuanced approach to risk, be it commercial, financial, performance or time. Defence innovation is managing this by working and benchmarking with other innovative organisations, demonstrated by its recent Investor in Innovations Standard Accreditation aligned to ISO56002 with the IKE Institute.
As we continue to build on a hard fought-for culture where to innovate is our instinct, we will invest in the science and technology needed for the visible and invisible battles of today and tomorrow, and we will change the way we train, fight, learn, manage and lead defence.
Clare Cameron, FIKE, is the director of defence innovation at the UK Ministry of Defence.