What are the main drivers behind data-driven medicine and big data analytics in patient settings?

Big data has changed how everyone analyzes and manages information across many industries. The healthcare field is no exception and is turning to the world of digital health.

Healthcare analytics have the potential to predict the outbreaks of future epidemics. It can also help avoid diseases and improve patient health and quality of life.
Big data technology could also mean a significant reduction in the cost of healthcare. Healthcare professionals can collect and review data to find the best strategies for providing care. It is important to note that healthcare data is highly variable and complex. It is also private and sensitive information. Any mistakes or data breaches could lead to healthcare providers compromising compliance laws and regulations (e.g., HIPAA in USA, the 10 National Data Guardian, NDG Standards in the UK) for data security. In the worst cases, mistakes could lead to life or death mistakes.
Avoiding data breaches and violations in the world of big data
Providers can collect and track medical data using technology. It provides abilities like no other time in history. The data is critical for helping to prevent, diagnose, and treat medical conditions. Yet, the benefits also come with challenges. The data collection leads to questions about privacy concerns. Medical professionals and organizations must keep patient data safe and private.
Healthcare providers must ensure they follow privacy laws and regulations mentioned above. Avoiding breaches and ensuring compliance requires a combination of technology and practical processes. Providers must develop policies and put in place strong cybersecurity standards and procedures (e.g., the deployment of ISO 27032 and ISO 81001-1 internationally recognized standards that offer guidance on cybersecurity, and provide the principles, concepts, terms and definitions for health software and health IT systems). Organizations must also install safeguards, including strong passwords and other precautions.
Providers are incorporating big data analytics into all aspects of healthcare
The past several years have brought radical change within the healthcare industry. Big data and analytics can provide practical insights to patients and healthcare providers. The technology can measure outcomes and spot population trends. It can be an effective partner for healthcare providers. The pandemic helped speed up the digital medical transformation. It allows for a closer and better look at medical data. It also helps find new ways to improve outcomes. The digital transformation in healthcare can achieve three objectives:
Quality and effectiveness of healthcare
Access to the information needed for proactive care
Efficiency by improving healthcare processes and reducing the costs of healthcare
Providers must store, share, and analyze the data effectively. The processes will allow them to prevent diseases and foster improved health outcomes.
The use of big data will help healthcare providers in strategic planning. It will also allow them to analyze results among various demographic groups to identify essential factors.
The healthcare industry uses the term big data to describe the massive amounts of data that digital technology creates. They can collect patient data and help manage performance. Before recent technological advances, collecting and storing all the information was too complex. Data-driven medicine and analytics in healthcare could have a significant positive impact. The technology could help save many lives. The use of big data will help healthcare providers in strategic planning. It will also allow them to analyze results among various demographic groups to identify essential factors.
The advantages of big data in the healthcare industry
Big data provides information on health conditions and activities in the healthcare industry. As technology and the world of medicine continue to advance, so do the abilities that big data provides. Big data technology will allow healthcare providers to keep patients healthy. The data analytics will help determine high-risk patients and help to avoid illnesses. Big data will assist medical professionals in creating customized treatment plans. Some of the most significant ways that big data is changing the healthcare industry include:
Advanced real-time care
Advanced technology can also assist healthcare organizations in providing quality, real-time care. It will ensure medical care providers offer the highest level of care possible. Big data will automatically track the patient's vital signs, symptoms, and medications. The technology will store the information to ensure all medical staff is on the same page.
Big data has a significant ability to improve follow-up, long-term, and preventative medical care.
Follow-up care
Big data has a significant ability to improve follow-up, long-term, and preventative medical care. The technology can predict patients who will likely follow the medical professional's advice. It could help prevent readmittances for those patients. The data will help the provider find the best avenue for treatment.
Cost reduction

Big data can offer many advantages in the reduction of expenses. Some areas that could enjoy cost reduction include the cost of medications and admissions. It could also save money on provider staffing and procedures. Healthcare providers could use analytics to plan for staff and reduce over-staffing issues. The technology will increase efficiency and decrease patient wait times.
Preventing medication and healthcare errors

Healthcare professionals are not immune to making errors during their careers. It is something the industry cannot avoid altogether. Yet, using big data could help prevent many mistakes. It could help avoid errors, including prescribing the wrong medications that will have adverse effects.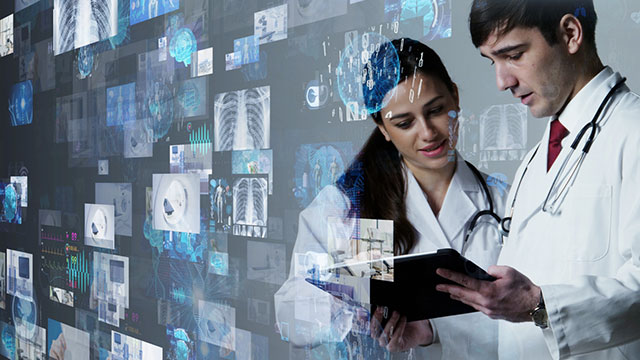 Other benefits of big data in healthcare
Big data technology could help analyze patient medical records and flag things that could cause a problem. There is no limit to advanced technology's advantages in the medical field. Some of the other benefits of big data in the healthcare industry include:
Streamlining the healthcare business
Identifying effective ways to prevent and treat opioid addiction
Through the use of DNA, providers can find the best cancer treatments
Help determine which patients should visit the care provider rather than using telehealth
Use data analytics to determine the best way to diagnose and treat diseases
Prevent suicides or self-harm in at-risk patients
Data-driven healthcare is the future of the medical and healthcare field. Automation will open the door and improve efficiency. It will also lead to more personalized care and improved profitability. Some of the most notable innovations in today's medical world come from analytics and software. Big data can answer challenging questions. The data can provide providers with answers they have searched to find for years. It will help providers improve the quality of care they offer patients.
Healthcare providers can use big data and predictive analytics to enhance healthcare in many ways. The technology can assist decision-making and improve outcomes. It will also provide relief to those working in the healthcare industry. Predictive analytics continues to prove to be a significant asset. It is vital for decision-making processes within the healthcare industry.