Foreword Professor Sa' ad Medhat
Entrepreneurship: A growing phenomenon?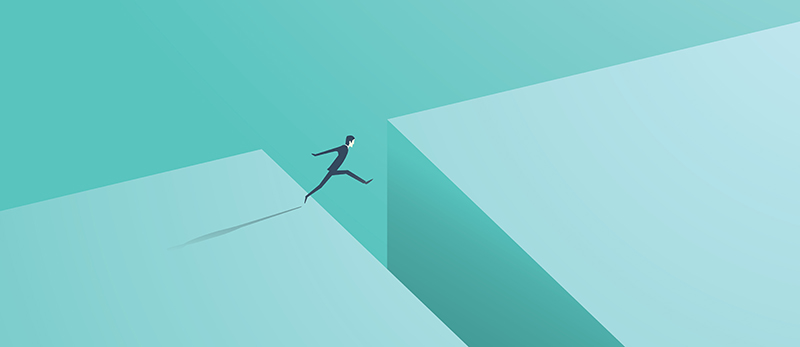 Entrepreneurship has been touted by successive governments as one of the key trend indicators of reducing unemployment, improving productivity and generating economic growth. Societally, entrepreneurship continues to gain popularity, particularly amongst the millennial generation of all diverse backgrounds and ethnicities, where a flexible work-life balance and the promise of being master of your own destiny offers a compelling work proposition.
The versatility and confluence of modern day technology (e.g. sharing economy platforms) to pursue profitable self-fulfilment is also encouraging the vast scope of innovation-centred start-ups to be created.
According to the UK's Office of National Statistics, self-employment is growing and there has been a recent increase in business formation. However, do these increases qualify under the banner of 'entrepreneurism' or are they just as a result of active labour market programmes? How does UK entrepreneurship compare with other European countries within the EU? And, are there different dynamics in various sectors in business and industry, with differing expectations of enterprise longevity?
At the Institute of Innovation and Knowledge Exchange, we have conducted a landscape review to shed some light on these questions.
The UK has a relatively high rate of new enterprise formation and has a wide range of funding sources for their early years."
It is commonly accepted that high growth enterprises - as defined by the European Union's statistical agency Eurostat - are enterprises with an average annualised growth in the number of employees of more than 10% per year over a three-year period, and who had at least ten employees when the growth began. These are the type of enterprises delivering employment and economic growth.
The UK has a relatively high rate of new enterprise formation and has a wide range of funding sources for their early years. Compared with other countries there is a fairly benign regulatory environment without excessively high interest rate spreads. However, this does not lead to longevity for micro businesses or any net positive employment from these 'one-to-four employee' enterprises. Long-term success and employment growth comes from enterprises that have been established with larger teams and a wider range of skills.
Figure 1 shows the birth rates of enterprises across the European Union, with the UK having the fourth highest rate behind Lithuanian, Latvia and Portugal. The UK's enterprise birth rate was also twice that of four countries: Switzerland, Austria, Finland and Belgium.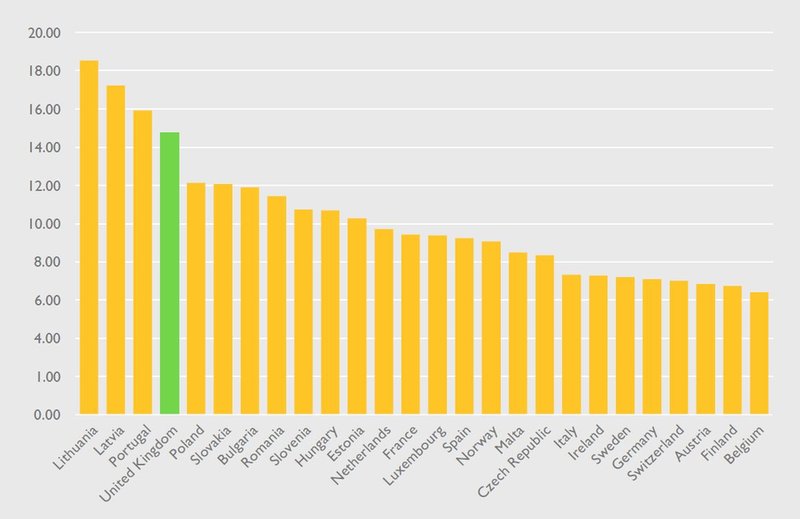 Figure 2 provides data on the proportion of enterprises set up five years previously that are still surviving in 2015. This shows the UK, having a relatively high birth-rate has a smaller number (41%) survive past the five-year mark. Compared to Malta which, at 87% survival rate past five-years, have twice the UK rate's of business survival.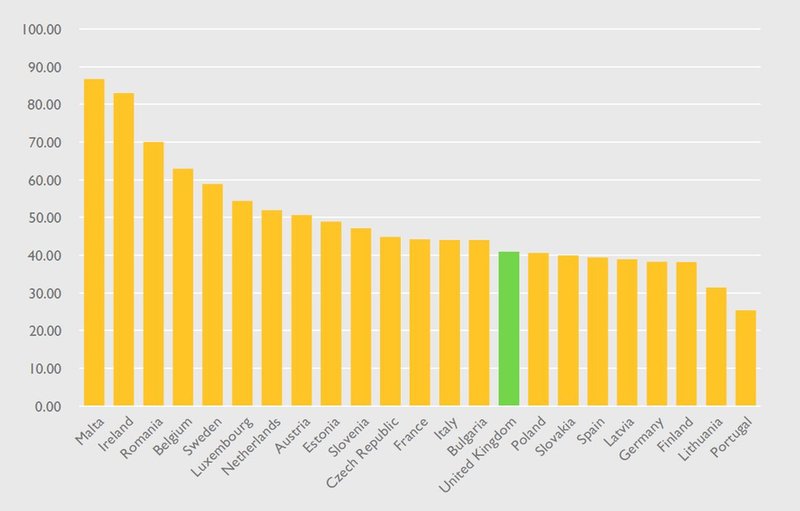 One measure of growth of new enterprises is the average number of employees working in surviving enterprises after five years of their initial foundation, as shown in Figure 3. This shows that, apart from Romania and Lithuania, the UK has the highest average number of employees in surviving enterprises of five-years old. This reflects on the combination of new enterprises in somewhat high growth sectors and the comparatively high average number of employees at the enterprise's formation.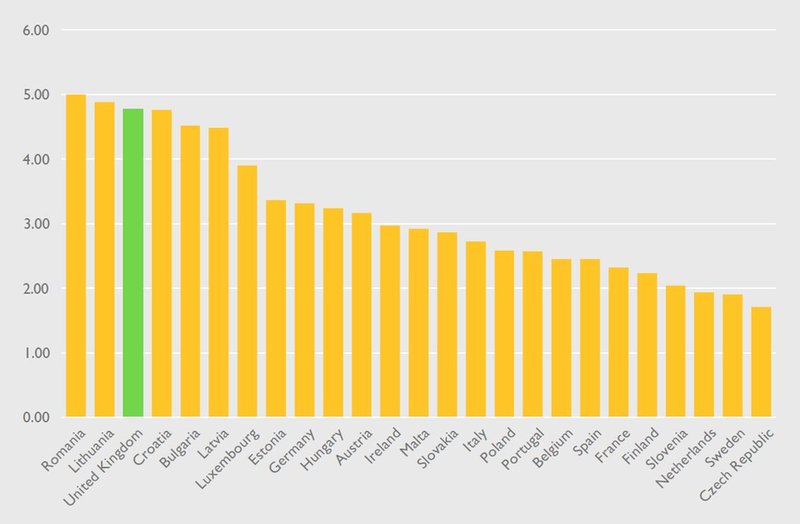 One driver of entrepreneurship is how it is viewed by society. Figure 4 provides data on whether entrepreneurship is perceived as a good career choice, whether people assign high status to entrepreneurs and whether they feel the media provides a positive image of entrepreneurship. Between these three measures an overall indicator of societal valuation of entrepreneurship can be generated. This shows the UK has a relatively high valuation of entrepreneurism, with only Romania, the Netherlands and Ireland having higher values.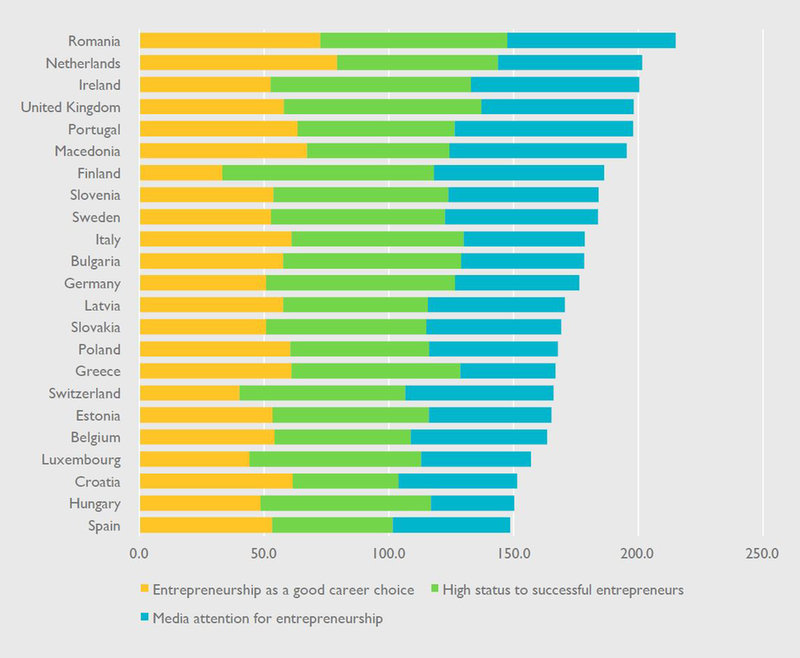 An important driver of entrepreneurship is whether individuals would prefer to be self-employed or an employee. Figure 5 provides information on this factor, with the data showing a high preference for employment, rather than self-employment, in the UK.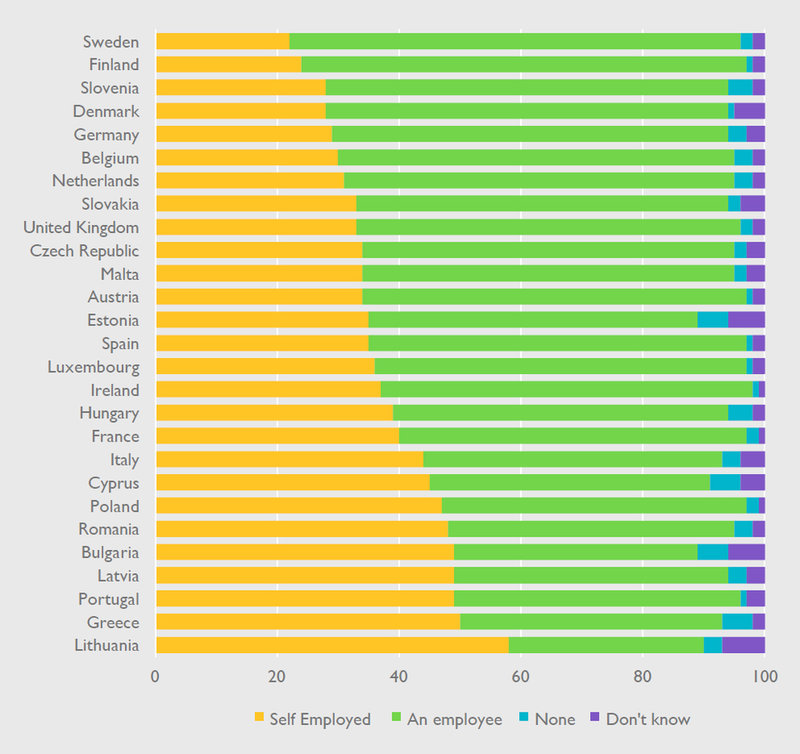 In terms of comparisons with Europe, the data suggests that the UK has a high rate of new enterprise births, exceeded only by Lithuania, Latvia and Portugal. However, the UK has a relatively low rate of new enterprises surviving over their fifth birthday, with about 40% surviving compared with Malta's 87% surviving.
Despite the poor survival rate, the survivors have a relatively high average number of employees at five years, with only Romania and Lithuania having larger average employee numbers in post following the five-year mark. Social values associated with entrepreneurship are somewhat high in the UK, with only Romania, the Netherlands and Ireland being more positive about entrepreneurs.
However, a relatively high proportion of the UK would still prefer to be employees rather than self-employed. Education and training providers have an important role to play in preparing and supporting individuals to develop their innovation skills and competencies, to underpin their entrepreneurial endeavours.
The popular view in the UK of dynamic and innovative small start-ups led by individuals battling against a system unwilling to provide finance and support may be misjudged."
The popular view in the UK of dynamic and innovative small start-ups, led by individuals battling against a system unwilling to provide finance and support, may be misjudged. The smallest of start-ups end in failure, partly having failed to grow due to a lack of appropriate business planning and foresight, and partly down to poor cash management, despite there being fairly easy access to finance through a wide range of funding sources and opportunities.
There is no data on the innovation activities of the smallest and youngest enterprises, but their productivity either comes from innovation or excessively hard work. The evidence regarding the demise of such start-ups points to a lack of more diverse skills than the ones needed to create the business in the first place. A greater diversity of skill set is often to be found in the larger teams of the bigger start-ups, and hence the reason for their better survival rates.
These start-ups, characteristically, are more innovative, become successful exporters, have greater business longevity and drive employment growth. Perhaps a greater emphasis on entrepreneurial teams, with a focus on building business innovation skills, would deliver the employment and productivity growth so often sought after by the policy makers.
The full IKE report titled "Does entrepreneurial success generate economic growth?" is available here.