infographic Technology transformation

Tech that will change the world
Connectivity, food security, mobility and the environment are key areas set for transformation in the next decade, according to a new report by Lux Research.
Lux Research has identified 20 technologies, trends and innovations that are likely to have the biggest impact on the way we live, work and play over the next decade. The top five transformational technologies, according to Lux's 20 for 2020 report, are 5G networks, shared mobility, plastic recycling, solid-state batteries and protein production.

The rapid pace of technological change is illustrated by the fact that 11 of the 20 technologies on the list did not rank in previous years. 5G networks top the list for 2020, having moved up 12 spots over the previous year's report.
"One of the most exciting trends this list highlights is how rapidly the tech innovation landscape is evolving," said Michael Holman, PhD, vice-president of research at Lux. "The number of newcomers on the list, along with progress in returning technologies, shows how rapidly innovation is progressing, creating compelling new growth opportunities as well as disruptive threats to incumbents."
Below we take a closer look at Lux's 20 for 20.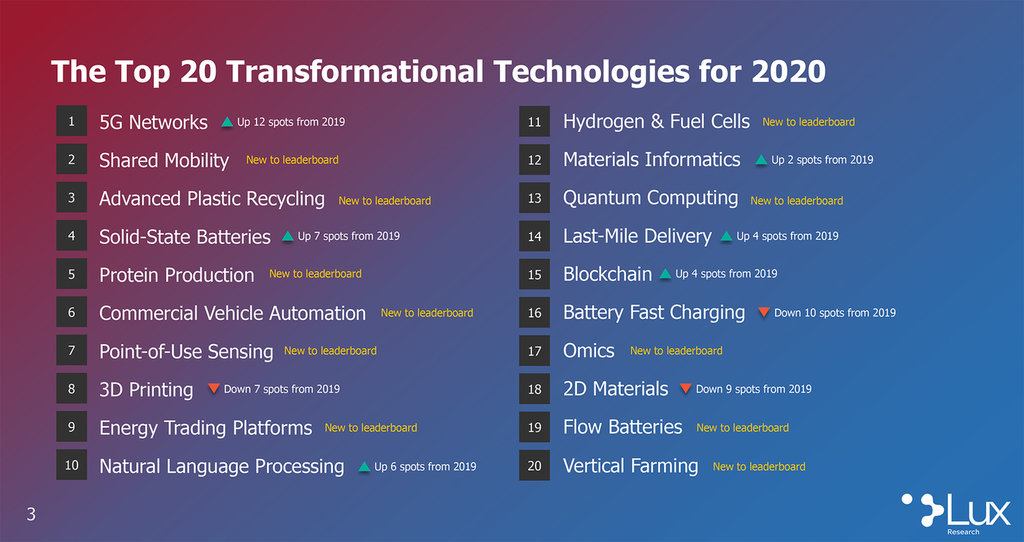 The technologies with the greatest potential to transform the world over the next decade