AI can accelerate the energy transition, but barriers to adoption remain
By Robert Scammell, deputy editor at Verdict
Artificial intelligence (AI) can function as a crucial enable of the energy transition, but several barriers are currently preventing rapid adoption in the energy sector, according to a report by the World Economic Forum.
The report, titled 'Harnessing artificial intelligence to accelerate the energy transition' and produced in collaboration with BloombergNEF (BNEF) and the German Energy Agency (dena), explores applications for AI in supporting the energy transition and makes recommendation for the energy sector to deploy AI safely and effectively.
The transition to low-carbon energy systems is a key priority in the global fight against climate change. Digital technologies, and AI in particular, have the potential to support this transition by helping the energy sector achieve its climate goals more quickly and at lower costs.
Based on BNEF's net-zero scenario modelling, every 1% of additional efficiency in demand creates $1.3tr in value between 2020 and 2050 due to reduced investment needs. AI can be integrated as an intelligent layer across many applications in the energy system to improve system performance and efficiencies, as well as to help manage supply and demand, all of which has the potential to create substantial value.
The report identifies three high-priority applications for AI the energy transition:
1) Identifying patterns to increase efficiency: According to BNEF's net-zero scenarios, fully decarbonising the global energy system will require between $92tr and $173tr of investments in energy infrastructure between 2020 and 2050. Even single-digit percentage gains in flexibility, efficiency or capacity can therefore lead to trillions of dollars in value and savings.
2) Coordinating existing power systems with growing shares of renewable energy: Ramping up renewable energy capacity will mean more power is supplied by intermittent sources, such as solar and wind, creating a need for better forecasting, greater coordination, and more flexible consumption to ensure that power grids can be operated safely and reliably.
3) Managing complex, decentralised energy systems at scale: The transition to low-carbon energy systems is driving the rapid growth of distributed power generation, distributed storage and advanced demand response capabilities, which will need to be integrated into much more networked, transactional power grids.
"In energy, we are only seeing the beginning of what AI can do to speed up the transition to the low-emissions, ultra-efficient and interconnected energy systems we need tomorrow," said Roberto Bocca, head of energy at the World Economic Forum. "Governments and companies can collectively create a real tipping point in using AI for a faster energy transition."
While some promising efforts have been made to deploy AI in the energy sector, innovation and adoption remain slow. In a bid to help speed up this process, and encourage trust in the technology among industry, the report sets out nine guiding principles for the design, enabling and governance of AI technologies.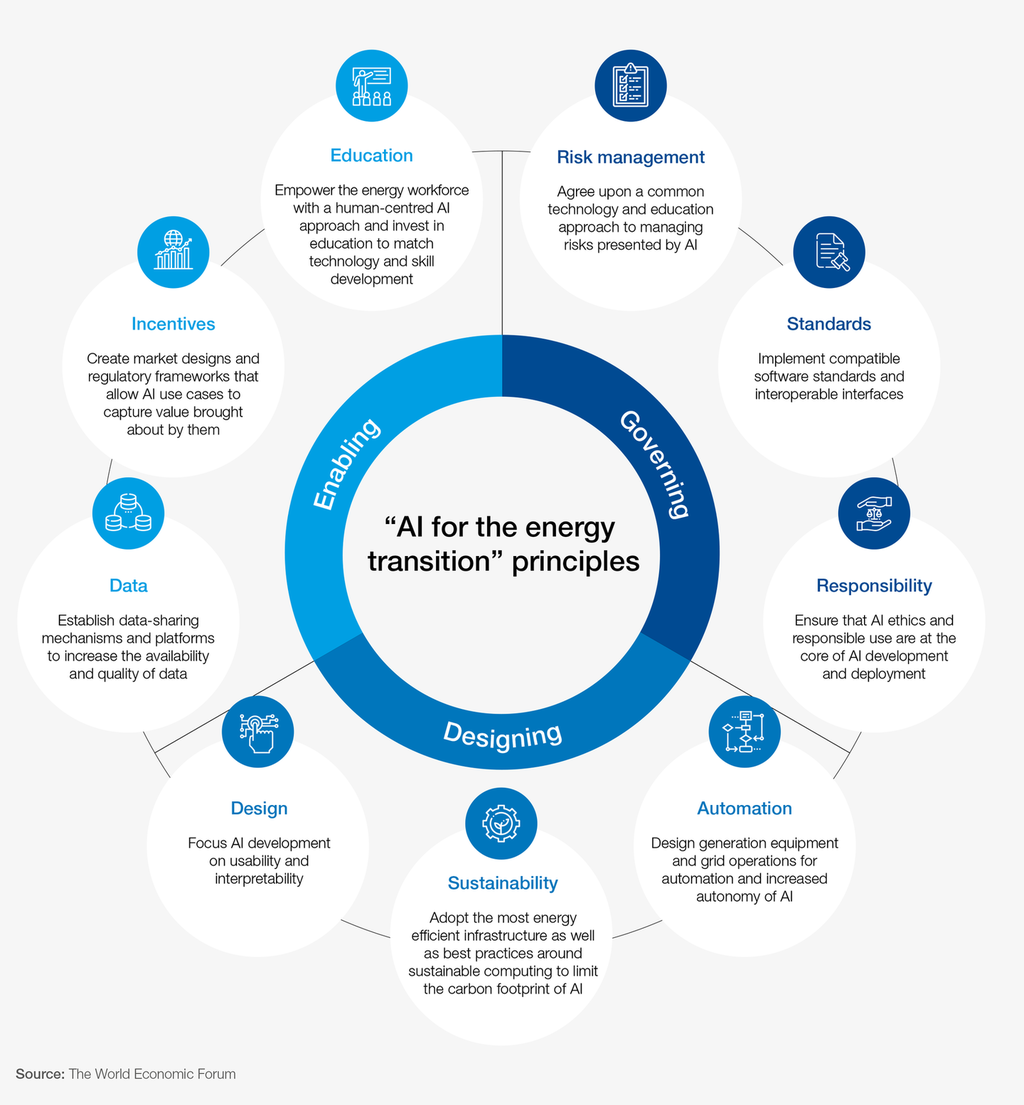 "Whilst we could identify many tangible opportunities for AI in the energy transition, there was a real need for a set of common guiding principles to make these opportunities scalable," said BNEF CEO Jon Moore.
"These principles should ideally create a framework that enables multiple stakeholder groups to work together effectively, on a pre-defined set of activities from governance, to design, to enabling infrastructure. They will enable us to move past the many 'proofs of concept' projects towards successful large-scale implementation of solutions."
You can read the report here.