Cornish enterprises harness Earth's resources to secure a greener future
The University of Plymouth highlights three projects funded through its Acceleration Through Innovation 2 programme that aim to develop sustainable technologies to help reduce carbon emissions in energy and mining.
When considering sustainability and stepping up our efforts to combat climate change, the natural resources beneath our feet probably aren't the first solution which comes to mind. However, in Cornwall, it's a hot topic of discussion.
Acceleration Through Innovation 2 (ATI2) is a £3.4m Cornish business support programme led by the University of Plymouth and funded by the European Regional Development Fund (ERDF). Established in 2017, the project is now in its second phase and continues to work with small to medium-sized enterprises who are seeking to commercialise new opportunities leading to growth, increased productivity and sustainable change.
Here are three companies that have been supported, who are all looking below ground to innovate towards a greener future for all.
From Truro in the heart of Cornwall, Kensa Heat Pumps has been manufacturing market-leading ground source heat pumps since 1999. True to its name, Kensa, meaning 'first' in Cornish, the company is the first and only dedicated ground source heat pump manufacturer in the UK.
ATI supported Kensa's ambition to develop a new product design that would increase the range and power produced by its ground source heat pumps. The business was also able to secure a grant to assist with the costs of the component purchases for the new prototype and MCS accreditation, an industry-led quality assurance scheme, which demonstrates the quality and reliability of approved products and installation companies.
Since then, the Kensa Group has gone on to further explore geothermal potential in Cornwall (and elsewhere in the UK) with its sister company, Kensa Utilities, which was recently awarded a separate ERDF grant to part-fund the 'Heat the Streets' initiative, an £8.7mn Cornish renewable heating project.
Ground source heat pumps are known to reduce the carbon emissions associated with heating a property by around 70%.
The project will see the installation of ground source heating systems, connected to shared ground loop arrays, in 500 new and existing homes in Cornwall over the next two years. The project is part of a feasibility study to demonstrate how shared ground arrays could provide a viable alternative to gas mains. "Heat the Streets will show how and why street-by-street installations are the most efficient and effective solution for the climate crisis," says the company on its website.
Ground source heat pumps are known to reduce the carbon emissions associated with heating a property by around 70%. Whilst heating at the moment represents 37% of the UK's total carbon emissions, a 70% reduction will go a long way towards the decarbonisation of heat and help towards our ambitions of achieving a net zero solution by 2050.
From its headquarters in Penryn, near Falmouth, Cornish Lithium is exploring the lithium-enriched geothermal brines throughout the County. But what's so great about that?
Currently, the UK has no commercial lithium production and the industry is in its infancy. However, the world's demand for vital minerals for new green technologies – such as lithium, which is needed for electric vehicle batteries – is soaring.
With less than a decade until sales of new petrol and diesel cars are banned, Cornish Lithium's contribution to meeting the UK's lithium needs is critical.
As part of its exploration programme, Cornish Lithium is constructing a 3D model of the geology, mineralisation and structures deep beneath the granite laden soils of Cornwall, where the valuable lithium rich brines occur.
To assist with its endeavours, the company received a grant from ATI to help purchase new 3D modelling software called Leapfrog Geothermal. Lucy Crane, senior geologist at Cornish Lithium, says this has 'taken Cornish Lithium's modelling to the next level' by enabling the company to illustrate how the fluids are flowing, and allowing it to better target its exploration boreholes and expedite the overall project.
Specialist consultants in the mining and mineral processing sector, Paterson & Cooke (UK), had the idea to develop a new piece of software that could create multiple efficiencies and savings, including a reduction in energy, resources and costs for its clients in the mining industry.
The company's dynamic hydraulic modelling tool looks to optimise the backfill recipes within a mine. It has the potential to offer significant efficiency improvements through a reduction in cement usage, which is typically one of the largest costs associated with mine backfilling, a reduction in energy costs (if the mine isn't pumping the optimum recipe underground) and the optimisation of water use.
The company also recognises that cement manufacture gives rise to substantial CO2 emissions, and so a reduction in consumption could also reduce the carbon footprint of the mine.
"It's a much more scientific approach, designing the backfill specification for each stope within a mine rather than a one size fits all approach, as the current process typically is," explains Dr Geoff Adderley, senior engineer at Paterson & Cooke.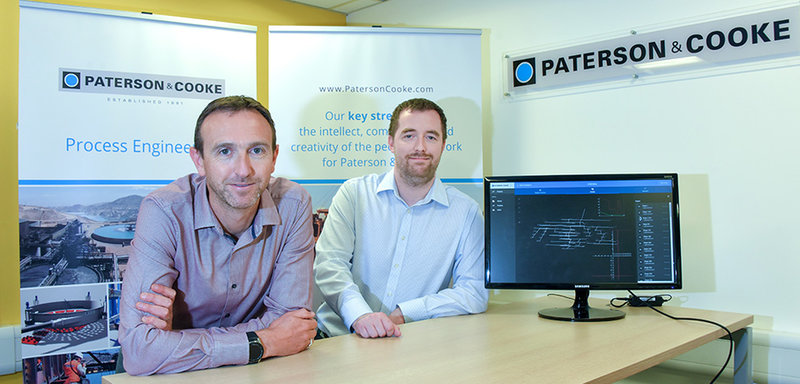 Paterson & Cooke have developed a software tool that helps optimise mine backfill.
The company's type of platform doesn't exist anywhere else in the world and the full extent of its impact on efficiency improvements are yet to be understood. The initial prototype was built internally by Paterson & Cooke, who approached ATI2 looking to use an external developer to help it turn its application into a customer-ready solution.
As part of its guidance and support package, Paterson & Cooke was also awarded a grant from the ATI2 Innovation Fund, which contributed towards the external developer costs to build the final platform.
Paterson & Cooke is in the closing stages of development and hopes to begin testing the software in-house in September 2021 before rolling it out to several customers, who are very interested in trialling the platform and learning more from the data that is yet to be collected.
The platform could also provide other exciting opportunities for the business to continue to develop its software service and further increase efficiencies. Future innovation could include introducing other technical solutions, such as real-time sensors within a mine which could automatically alert the software to update or adjust the backfill specification. This is a long way off, but nonetheless, an ambitious idea which could make a big difference for mines across the globe.