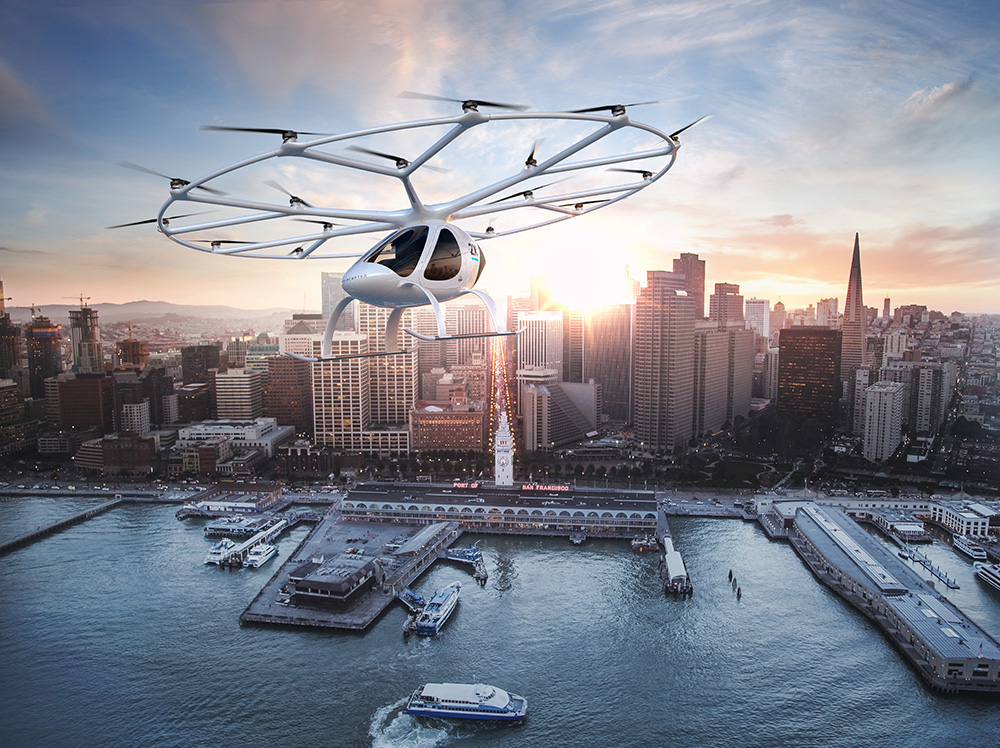 Innovation takes flight: the future of aviation
From drones to air taxis, the future of aviation is efficient, green and exciting. Lucy Ingham speaks to David Tait, head of innovation at the UK's Civil Aviation Authority, to find out what lies ahead.
The world of aviation has never been short on innovation, but with the emergence of drones, air taxis and green propulsion alternatives, there are a flurry of changes on the horizon.
"Aviation by its very nature is inherently pro innovation. It's been over 100 years of exciting tests and trials and people climbing into things and testing them for the first time," says David Tait, head of innovation at the Civil Aviation Authority (CAA). "But I think we are looking at a number of technologies coming together, in a way that perhaps they have been fairly silent in the past."
Historically, many of the changes in aviation have been iterative, with changes over time leading to modest but beneficial efficiency gains. But now, there is a convergence of multiple technologies that are together providing a step-change in how people and goods are moved through the air.
These changes, Tait says, include advances in battery and energy density; improvements in small electric motors; improvements in hydrogen availability and transportability and developments in automation and autonomous systems.
"One of those will be transformative. All of those coming together at the same time, is really what is making this a particularly dynamic environment for aviation," he says.
In such a disruptive environment, the usual narrative is one of radical innovators held back by sluggish regulation and out-of-date authorities. But with such a historically innovative mindset, the CAA is bucking this trend.
"At the CAA Innovation Hub we're looking to work collaboratively with industry to try and get moving ahead of where innovators need to be instead of being perceived as holding them back," explains Tait. "Our sense is that it's not that the regulations are far off where they need to be. The challenge is translating that into a language that is accessible and understandable to innovators and makes clear the evidence base they have to establish and what they have to work towards."
Changing business models for multifaceted transport
At present, the focus for the CAA Innovation Hub is supporting the development of these transport innovations, but not too long from now their efforts are likely to reap rewards.
Looking towards 2030 – or perhaps 2040 – Tait says that "what we're going to see is a greater diversity of the types of aircraft that are flying". That means smaller drones and smaller passenger-carrying aircraft, he says, which could in turn lead to different types of flights.
"So potentially more short hops between large conurbations, and conceivably you can see sort of London to Oxford, Oxford to Cambridge and Bristol to Cardiff routes coming in, and as well as intra-city travel with the eVTOL air taxi concept," he says. "And potentially a much greener short and long haul as sector of existing commercial aviation transport operating out of the existing airport infrastructure."
What we're going to see is a greater diversity of the types of aircraft that are flying.
This will not only prompt a change in the transport types that are available but will, Tait says, produce "really exciting changes in business model as well". For example, all-electric aircraft are likely to be much quieter, opening up the possibility of more routes flying from cities, he says.
"Smaller electric transport has already begun to allow for the advent of drone deliveries and new services that are coming closer to consumers than we've had before. And with a shift towards hydrogen or other forms of zero-emission propulsion, that opens up the route to having a really sustainable aviation sector. So it opens up all sorts of possibilities for the future."
Drone technology: learning from Covid-19
But for this exciting future to be realised, there is an immense amount of work to be done in the present. And when it comes to drones, the CAA has been particularly busy in recent months with trials related to Covid-19.
"Covid-19 response has particularly energised things; we've had one particularly strong use case which is off the west coast of Scotland connecting two hospitals in Oban and Mull," explains Tait.
This trial focused on drone delivery startup Skyports, which is in the Innovation Hub's sandbox of organisations it is supporting, but has also been assisted by funding from UK Research and Innovation.
"[It] has opened an air bridge between two hospitals allowing the transportation of supplies, of PPE etc., and that's been a tremendous way for us to explore the ways in which aviation and particularly small drone delivery services could contribute to making the NHS more resilient and to provide Covid-secure applications within the NHS," he says.
By having these tests and trials there's the opportunity both to learn specific lessons for Covid but also about how we integrate these types of operations into the bigger aviation system.
For the trial customer – NHS Highlands – this has been an eye-opening insight into how drones can bring benefits to the health service. Supplies that would normally take 24 hours to be replenished are being delivered through a just-in-time service, combatting hospital-specific shortages and reducing contact points in the process.
"The customer there is learning about what these services could mean for their business in promoting resilience and giving an alternative route of supply," he says."So clearly that has important impacts for Covid and also in the sense of how we set up a service that relies on having fewer people immediately in the delivery chain. You're not handing over from person to person supplies, you're using a drone instead. So that's clearly a more Covid-secure way of operating."
Tait describes running the trials as "really incredible", adding that it was interesting to see "how transformative" it could be and "the capacity that could be put in place" for the NHS. But there were also lessons for the CAA that will help with the wider development of drones in the UK.
"We as a regulator are learning from that particular example how to start integrating these types of drone operations into existing airspace; how to ensure that they're communicating with airspace users, they're interacting properly and safely with, for example, helicopter emergency services, other airspace users in terms of the local airspace communities, other airports nearby, military aircraft who might be in the vicinity, and general aviation who might be in the vicinity," he explains.
"So by having these tests and trials there's the opportunity both to learn specific lessons for Covid but also about how we integrate these types of operations into the bigger aviation system."
Artist rendering of urban transport drones. Credit: The Foreign Office Collective.
Towards a drone-filled reality
The Skyports trial with NHS Highlands is just one of many in the works, with Tait promising "some really exciting tests and trials taking place in the UK" in the near future.
Other companies in the CAA Innovation Hub sandbox include Boeing HorizonX and startup Sees.ai, both of which are focused on detect-and-avoid systems that are vital to drone development.
"Alongside that, we're also working hard to publish the roadmap that we see towards a fully integrated future," he says. "So I think we're still a couple of years away from seeing that taking place. "But what's really exciting is that we have the pieces in place now; we have the tests and trials going on. We have a clear regulatory framework that I think sets out clearly what the requirements are going to be that you need to meet."
This includes support from the CAA, as well as players in the public sector space, says Tait. That includes the Connected Places Catapult, which has designed architecture for unmanned traffic management, as well as other initiatives such as the Future Flight Challenge, which Tait says is "is putting significant public funding into trying to unlock these use cases".
"So I think absolutely we're still a couple of years away from seeing a fully integrated service and a fully integrated airspace, but I think we've now identified the building blocks that are going to get us there."
Key to making this a reality is, of course, appropriate regulations. And here the CAA is providing considerable support to companies conducting such trials.
An innovator can build a tech solution to a problem, but how do they know whether or not that conforms to the standards that the regulator is looking for?
"An innovator can build a tech solution to a problem, but how do they know whether or not that conforms to the standards that the regulator is looking for? How do they know that it's meeting that target level of safety?" says Tait.
"That's on us as the regulator to clarify the regulation, to clarify the target level of safety and to be clear about what sort of evidence we need to see, so that the industry can build their tech solution to that standard."
Tait says that the CAA is "working hard" to ensure the standards are as "accessible to industry as possible" by bringing in colleagues on the regulatory side into the conversation. Likewise, he says it's important to engage with industry and "really walk them through" what the regulations mean right from the beginning of their product development. This is to ensure industry innovators can "bake our regulatory requirements into their solution", Tait says.
However, different drone applications are going to emerge at different times, and while Tait stresses that the CAA is "agnostic", he is seeing some use cases enjoying more focus than others.
"Significantly, the sort of surveillance use cases that we're seeing are in logistics and infrastructure; inspection and management, both onshore and offshore," he says. "So there's some really interesting use cases there, and we're definitely seeing that particular area of focus for a number of innovators."
On delivery, however, drones turning up at your house with your latest online shop are unlikely to be the front of the queue.
The NHS trials have demonstrated the ability to take "potentially thousands of hours of van driving time off the roads, put it into the sky and have more and on-demand services", which frees up space within hospital, depos and similar. And Tait argues that drone use by other organisations with similar volumes and scales is "what we're more likely to see ahead of the kind of personalised delivery service to people's homes".
"That feels further away; it's not quite so much what we have people coming and speaking to us about at the moment," Tait explains.
Artist rendering of drones and landing pads in a city landscape. Credit: Volocopter.
When it comes to new transport typologies that the CAA is currently engaging with, it's not just about drones. The other key emerging market is urban air mobility (UAM), often referred to as air taxis. These take the form of electric vertical take-off and landing (eVTOL) vehicles that are capable of carrying passengers.
And right now, with companies around the world working to develop final, passenger-ready versions, the industry is attracting serious investor interest.
"We've continued to see throughout the Covid period, very strong investment from venture capital companies into this sector," says Tait."I think nearly half a billion dollars in venture capital funding has gone into a couple of companies that are looking at developing eVTOL aircraft that could in the future provide air taxi services and urban air mobility services."
The eVTOL space is, he says "a really vibrant market", with companies working to produce vehicles that meet the regulatory requirements of the various markets. And as the UK regulator, the CAA is playing a key role in this.
Nearly half a billion dollars in venture capital funding has gone into a couple of companies that are looking at developing eVTOL aircraft that could in the future provide air taxi services.
"We're involved in making policy at European level through EASA [European Union Aviation Safety Agency], and through other bodies like Eurocae [European Organisation for Civil Aviation Equipment] and internationally through ICAO [International Civil Aviation Organization], which is the UN specialist agency. And we play a role in that on a daily basis, chairing working groups, setting standards for certification and operational standards," he explains.
Central to this is the provision of an innovation space for companies eyeing the UK market, which takes the form of the CAA's Future Air Mobility Sandbox that launched in June to "a really positive response from the industry".
"We're hoping to announce the outcomes from that sandbox challenge in a couple of months, and that will hopefully lead to some more tests and trials in the UK," he says.
The sandbox was not the dawn of the CAA's involvement in UAM trials, however. It had previously conducted UK tests with a number of companies, notably Germany's Volocopter and the UK's Vertical Aerospace, both of which are key emerging names in the nascent UAM market.
"We spent a year working with [Volocopter] to come up with a draft concept of operations for them about how they could deliver a service in the UK," explains Tait. "That was a really, really useful year; it allowed us to bring on board our regulatory teams to unpack the problem that Volocopter had of how to operate in the UK, and to really give us a great chance to work on a practical example, rather than do something that we've been thinking about in the abstract.
Urban air mobility in the UK: a challenging market
For many UAM companies, Tait says that London and a number of other UK cities are high-priority targets for future air taxi services. However, launching such services in the UK is intensely challenging, most notably because the UK has "the most congested airspace in the world".
"In contrast, perhaps, to colleagues in Australia and the US, we don't have the wide-open spaces that they do. We've got a much more condensed airspace, particularly in the southeast of England, but we have, alongside that, very high volumes of traffic and much higher even than our European neighbours," he explains.

"And as a result, we have significant demands on airspace, on air traffic management, on infrastructure and also a significant environmental, social and noise footprint on the communities that are both benefiting from and being impacted upon by these technologies."
Here the CAA Innovation Hub is also developing approaches designed to help companies build a UAM market in the UK's "unique and quite pressurised existing aviation context".
"We started develop what we've called the concept of social licence, which is an ongoing, 360-degree stakeholder engagement process that we're encouraging these innovative companies to utilise," he says.
"To ensure that – as far as possible – they build both an exciting and engaging business proposition, but also one that is sustainable from a social, political and economic standpoint, whereby communities who are both potential beneficiaries and potentially impacted feel that their concerns are taken account of, and that sustainable business models are built on the back of that."
An electric vertical take-off and landing drone. Credit: CAA.
Building a green aviation industry
Both drones and eVTOL vehicles have huge potential to change the industry, but what really excites Tait above all else is not the new typologies, but the potential to rebuild aviation as a truly green industry.
Part of that is down to the electric propulsion that these vehicles use, but alongside it is the emerging potential of hydrogen as a power source for traditional long-haul flights.
"We don't know yet which of those is going to become the key trend for the future of aviation, but perhaps what we're more likely to see is different propulsion technologies and energy sources being used for different operating contexts," he says.
"If you've got a small intra-city eVTOL air taxi-type concept, it might be electric. If you're looking at inter-city or international travel, you may be looking at hydrogen fuel cell, something like that. "So I think for me, the most exciting trend has got to be the new types of aviation propulsion that are coming on stream, because they change everything."
The future of aviation is varied, complex and changing, but there is a clear eagerness at the CAA and beyond to help facilitate its emergence and help companies that are contributing.
"I think that's the particular challenge: understanding the changing demands from innovators and those who are looking to experiment, but also helping them to understand the burdens that we're looking to put on them," says Tait.
However, the CAA Innovation Hub is also still on the lookout for companies that are trying to play a role, with Tait ending on a call to action for would-be innovators. "If any of your readers are working in the sector, or have an idea or an innovation, then we'd be very keen for them to get in touch with us."
Main image: artist rendering of transport drones in a city. Credit: Volocopter.