Multiplying the power of X as a service
'Everything as a service' models have seen rapid growth over the past year. IKE Institute CEO Professor Sa'ad Sam Medhat explores the business innovation potential of the as-a-service concept.
'Everything as a service' is a term that exemplifies the power of the cloud. In the past year, organisations have had to flip processes, reorient business models and change tactics.
Building adaptive capacity has been a critical priority for organisations, to ensure they're ready with fast and flexible responses to ever-changing operating environments.
Speed has been a major business weapon in combating the uncertainties generated by the Covid-19 pandemic. And that speed has been achieved by the abundance of cloud platforms, offering business continuity, remote working and security in cost-efficient, accessible packages.
Harnessing the power of the cloud
Cloud platforms are becoming the trigger for business model innovation. Business leaders constantly tell us here at the IKE Institute that they've innovated faster through digital means in 2020 than at any other time in recent years. Their innovations are being powered by the pervasiveness of cloud services. Hosted cloud platforms are being seen as a democratising force; liberating opportunities and offering a strong base for organisations to fast-track their digital transformation journeys, without the need for costly, upfront investments.
The key to maximising cloud technologies is to review existing business applications and associated workloads and see how, by shifting them to the cloud, they could be optimised, providing cost-effectiveness and productivity. Any part of an organisation can derive benefit from transfer to the cloud, and thus everything from supply chain to end-user interactions are finding themselves being optimised through adopting 'everything' or X as a service (XaaS).
This new way of working is being interwoven tightly with strategic business processes, challenging past notions, and reshaping business environments, and – with access to real-time behavioural data – capturing and changing customer perceptions and expectations with new products and services.
It's true that, although everything as a service is talked about, in business terms, there are four primary service models: platform as a service (PaaS), software as a service (Saas), infrastructure as a service (Iaas) and machine learning as a service (MLaaS), as outlined here:

The four major categories of everything as a service.
Innovations created through the convergence of cloud technologies, the internet of things (IoT) and real-time edge computing – processing on a device at the point of user need or consumption – enables different paradigms for XaaS offerings. With the high bandwidth, low latency benefits of 5G, XaaS with AI will enable greater speed, accuracy, flexibility and data sovereignty for organisations looking to drive their innovations through cloud technologies.
Different types of innovations better suit the various types of as-a-service configurations. Innovations focused on developing new software products or service applications can be supported by platform as a service vendors.
These PaaS providers offer access to software tools and pre-packed code, enabling rapid, cost-efficient routes for developers to create unique, customisable applications without significant IT outlay. Access to hardware, often in the form of virtualised machines, gives innovators access to emulated virtual machine layers running different operating systems and associated programs, thus supporting scalable design and test environments.
Use of PaaS helps to create innovative minimum viable propositions that can be experimented and tested on with target customers, thereby gaining faster and more valuable feedback to learn from, pivot and refine features to meet customer needs.
An organisation looking to rejuvenate its business model by creating new channel developments or building new brand positioning could use the flexibility that software as a service offers.
Developing new online channels or specific apps to distribute and sell products and services requires time, technical expertise and IT investment. With SaaS, access to specialist subscription-based online software removes the need to code, host and maintain complex software programmes. Omni channel templates that enable selling across Facebook, Instagram and Pinterest, with secure socket layer online payment systems and prepacked shipping, distribution and promotion apps can be utilised through SaaS offerings like Shopify and BigCommerce.
Selling across multiple channels (especially social media) gives an opportunity to not only develop new markets but also integrate customer intelligence back into the design process seamlessly, thereby supporting both enhancements and new products and services, as well as providing sources for ideas and connections to push the innovation portfolio into more adjacent innovation horizon developments.
Infrastructure as a service

IT infrastructure such as storage, networking, servers and virtualisation are big investments for organisations. The pandemic has shown the need for scalability; being able to increase or decrease IT infrastructure in line with business fluctuations is a crucial part of optimising operational performance today.
Infrastructure as a service provides a pay-as-you-go approach, giving flexibility, scalability and cost-effectiveness, and removing the need for costly physical hardware and external IT contractors, as well as the associated headache of upgrade/update maintenance.
From an innovation standpoint, using IaaS enables a more efficient way to innovate business processes, particularly those that require collection and analysis of big data.
Machine learning as a service
The most recent as-a-service category to emerge in the past year is machine learning as a service. When integrated with IaaS and PaaS, MLaaS offers a significant game-changer to companies wishing to innovate the ways in which they communicate with their customers and end-users.
Complex abilities such as predicting, narrowcasting and recommending using artificial intelligence had previously been the sole preserve of large companies, but now they are being adopted by agile smaller enterprises wishing to sell more to their market audiences.
Through the use of platforms such as Google Cloud Auto AI and Microsoft Azure ML Studio, hosted, off-the-shelf regression, classification, clustering and association algorithmic tools can be used to develop machine learning workflows that include data pre-processing, data exploration, model selection, deployment, and results analysis, with minimal programming skills.
X as a service is growing rapidly
Unquestionably, X as a service is growing at an exponential rate. Remote working has fuelled this need, with investments in cloud-based infrastructure services surging forward, buoyed by better data shareability across multiple business functions and activities.
According to a recent survey by the IBM Institute for Business Value of over 5,000 businesses worldwide, the typical enterprise is aware of using nearly eight clouds from multiple vendors ('The hybrid cloud platform advantage - A guiding star to enterprise transformation', PDF).
It's not an exaggeration to say that that figure is probably much higher, as many functions such as customer service, logistics, sales, marketing and human resources tag on cloud applications in an ad-hoc manner to keep up with market demands. The survey suggested that companies expect to be using at least ten clouds from even more vendors within three years.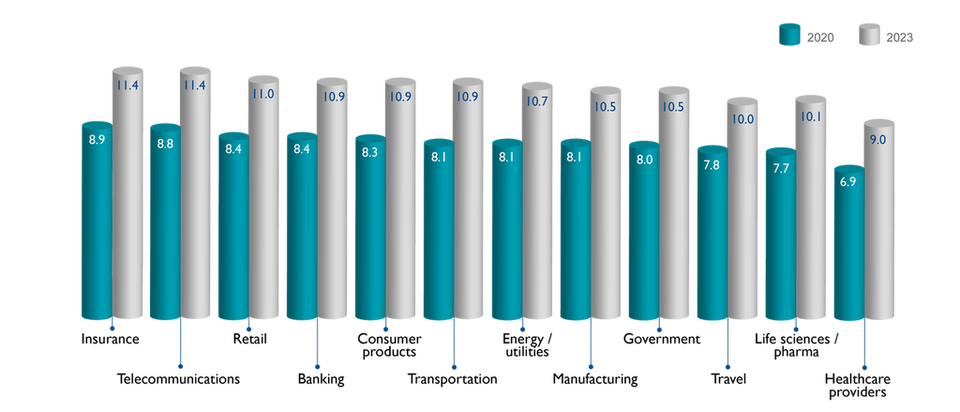 The projected growth of X as a service from 2020-2023.
With these cloud uptake figures racing ahead, a positive light is being shone on the ability to digitally transform and innovate at pace, something that is much needed in our dynamically changing and highly volatile business environment.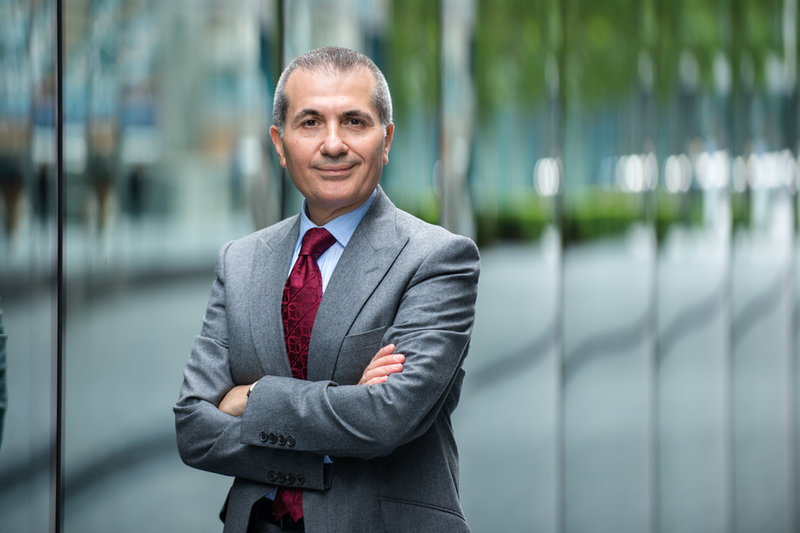 Professor Sa'ad Sam Medhat
PhD MPhil CEng FIET FCIM FCMI FRSA FIKE FIoD
Chief Executive
Institute of Innovation and Knowledge Exchange